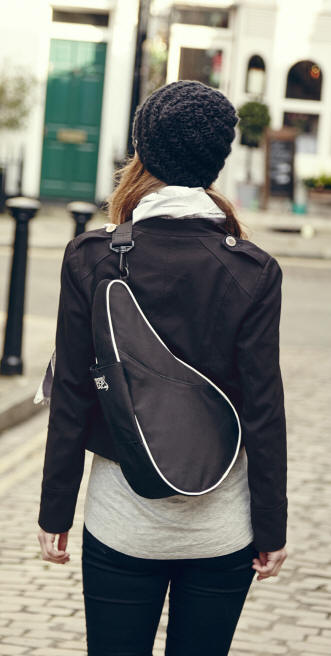 All-around city bag holds tablet, wallet, cell phone, etc.
Dimensions - 17" X 9" X 6"
Designed to mold to the shape of your spine, minimizing the strain on your back, neck and shoulders. The body-hugging contours and adjustable wearing eliminate twisting or straining your posture. The more places a bag touches your body as you wear it, the lighter it feels.
Unique shape keeps weight evenly distributed across your back, so no pulling, no crooked necks or uneven shoulders.

Material: Made from 100% durable polyester, it is lightweight yet hardwearing, and is perfect for days out. The reversible design ensures it matches all of your outfits without having to change your bag. It is simple to turn inside-out between the solid side and the color blocked side making two bags in one! Cleverly designed pockets inside and out mean your stuff is organized the way you want it.

Features:
• The HBB that was engineered to perfectly turn inside-out.
• Key hook.
• Baglett D-ring.
• Interior/exterior spine pocket.

• Adjustable non-slip shoulder strap.

• Full length double zip opening.