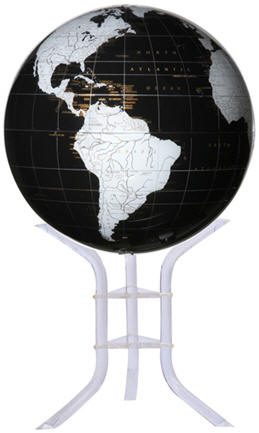 The opaque black oceans of this Earthsphere contrast with the white landmasses accentuated with silver and gold highlights.
H
and-fashioned from the highest museum quality acrylic. Current country boundaries, capitals, major cities, and bodies of water plus latitude and longitude markings expertly hand silk-screened on the interior surface to look like hand etching. Each sphere includes an information-packed booklet to help you use the sphere in learning more about our planet along with a Certificate of Authenticity signed and dated by the craftsman who created it.
What better way to more fully understand the world's geography than to study a highly accurate model of our planet. State-of-the-art technology allows us to offer a lifetime guarantee of quality and craftsmanship.
Globe Diameter: 30"
Height: 49"
Cartography: Current
Made in USA
Item #ES30-OFS
L
ifetime guarantee
Globe Manufacturing Process