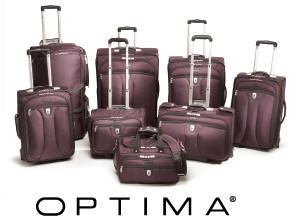 Versatile and lightweight, the OptimaŽ Collection's elegant expandable luggage goes a long way toward changing the way you travel.
Our revolutionary innovative 2-bags-in-1 Dual Expansion System offers room for more and more for your money. By allowing business and leisure travelers to pack up to 44% more, our Convertible Uprights provide the largest expanded capacity in their category. Start your trip with a 22", expand it to the volume of a 24" for the return. Leave with a 25", come home with a 27". The main compartment also accommodates a removable deluxe garment suiter with foam bar to help keep clothes wrinkle-free. A durable Honeycomb frame and high-mileage wheels ensure bags are feather-light and effortlessly mobile.
Dual Expansion System features up to 44% more volume. It is achieved initially with a forward facing expansion of the front panel by 2.5", then a second expansion of 1.5".