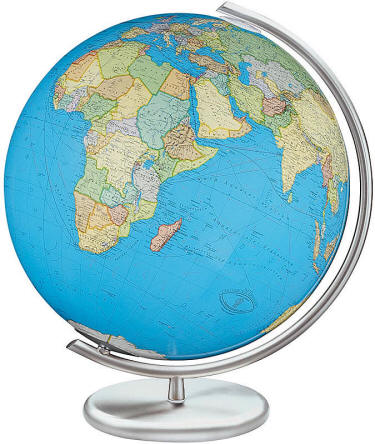 World Globe Model #CV-204083

Kiel illuminated world globe features a high quality hand-blown 16" crystal sphere, covered precisely by hand with an up-to-date map.
When illuminated, the globe displays physical cartography of land forms, mountain ranges, ocean depths and other physical features (see image below.

Non-illuminated globe displays a map with political boundaries.
World globe is mounted on a metal base.
| | |
| --- | --- |
| * | Globe Diameter: 16" (40cm) |
| * | Height: 18" (46 cm) |
| * | Illumination: yes |
| * | Duo Cartography: yes |
| * | Scale: 1:31850000 |
| * | Locations: 4400 |
| * | Language: English |
| * | Sphere: hand-made crystal |
| * | Meridian: polished metal |
| * | Base: polished stainless steel |
| * | About Columbus Globes |