World Globe Model #CV- 224072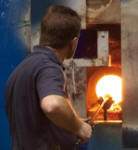 Weimar large illuminated world globe features a high quality hand-blown 16" crystal sphere, covered precisely by hand with two up-to-date geographical maps.
When non-illuminated, the globe displays political boundaries cartography, as seen at left.
While illuminated - the globe displays a physical style map. As average desktop globes measure 12" in diameter, this globe is considered among the largest desktop models. Features 4400 place names.
Illuminated desktop world globe is mounted in a metal semi-meridian and is supported by a heavy metal stand.
*
Globe Diameter: 16" (40 cm)
*
Height: 18" (46 cm)
*
Illumination: yes
*
Dual Cartography: yes
*
Map: Royal ™ style
*
Language: English
*
Sphere: hand-made crystal
*
Meridian : metal (

steel matt lacquer gold

)
*
Base: metal (polished steel)
*
About Columbus Globes