This illuminated globe displays the physical features of the moon.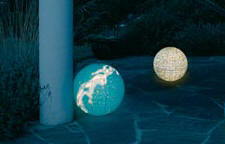 The 16" high-resistance acrylic sphere is sealed with durable varnish, rendering it impervious to scratches.
The Moon globe is a free-standing globe which is offered in an indoor or outdoor version (complete with electrical components safe for use outside) and becomes an intriguing conversation piece, as well as a unique illumination source in any living space. The Moon globe is just the thing to add to your astronomy collection.
*
Globe Diameter: 16" (40 cm)
*
Illumination: yes
*
Map: Moon style
*
Language: English
*
Sphere : unbreakable Plexiglas
*
Indoor globe: please call for availability
*
Outdoor globe: please call for availability
*
Outdoor globe: safe electrical components
*
A bout Columbus Globes

Indoor Globe Model #CV874006-I

Outdoor Globe Model #CV874006-O