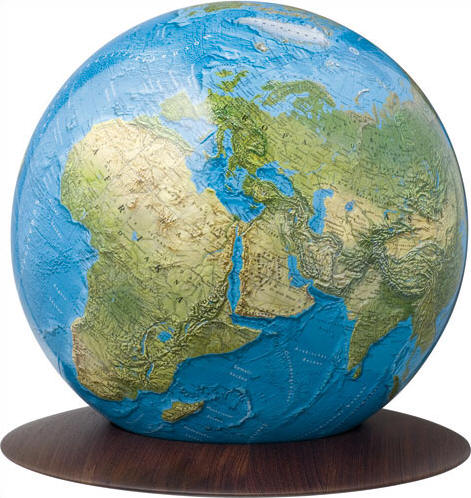 Flensburg illuminated world globe features a high quality hand-blown 14"

crystal sphere, covered precisely by hand with two up-to-date geographical maps. When illuminated, the globe displays political cartography, non-illuminated globe displays Earth's vegetation (forests and deserts) map as seen at left. As average desktop globes measure 12" in diameter, this globe is considered among the largest desktop models.
Illuminated desktop world globe sits atop solid wood base.
*
Globe Diameter: 14" (34 cm)
*
Height: 16" (40 cm)
*
Illumination: yes
*
Dual Cartography: yes
*
Map: Duorama ™ style
*
Language: English
*
Sphere : hand-made crystal
*
Base: solid wood
*
A bout Columbus Globes

World Globe Model #CV213423 Special Order