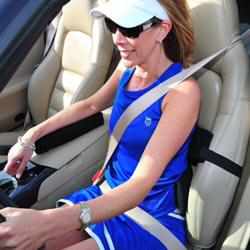 Memory Foam is a revolutionary visco-elastic foam that is made up of cells that open and close and adjust to body weight and temperature. No other material has the custom shaping that you get from memory foam. In addition, memory foam is temperature sensitive: harder in lower temperatures and softer and bouncier in higher temps.
Memory Foam Neck Pillow has a special memory foam composite that has a softer feel on the top portion of the Comforts and a slightly firmer feel on the bottom side of the Comforts. That way you can choose and adjust the feel you want where you need it.
Memory foam is all made in the USA. It has the same high density foam properties as those used in the highest quality memory foam beds on the market. In addition, our memory foam has been extensively researched and tested with all our products to ensure that each product provides the most effective comfort and support.