Geochron World Clock > Original Geochron
Designer Geochron Global Time Indicator

Sale $4295.00 (free shipping & handling) Retail $4850.00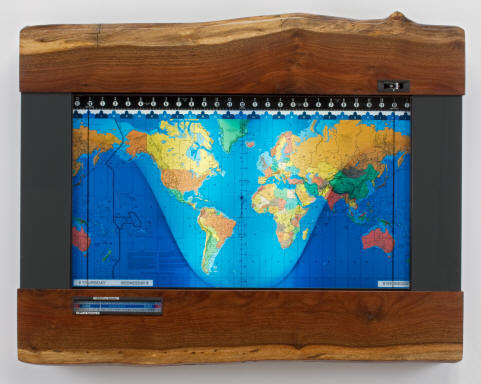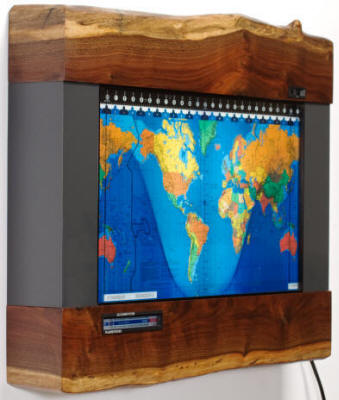 Geochron is an illuminated world map clock - suitable for executive boardroom, your home office or kitchen wall.

Front panel size 34 1/2" x 22 3/8" x 5".

Includes analog 0 to 60 minute clock for additional precision (this feature distinguishes the Original Kilburg Geochron from the Standard Geochron). You may choose between 12 hour (a.m./p.m.) time band (which runs along the top of the chronometer) or the 24 hour (military time, 01400,01500 etc.) time band. The frame is offered in a choice of six laminate finishes and three trim colors (around chronometer).

Wood, Stainless Steel and Anodized Aluminum frame upgrades available for an additional fee (see below). Surface mount bracket included for easy mounting.
The Designer Series Geochron is hand-made with the
same precise levels of craftsmanship and quality as the other Geochron
Models. The wood is hand chosen by the designer and each piece unique.
Pleas note that wood grain, shape and coloration of walnut will vary. All
walnut is grown to meet the standards of the Forest Stewardship Council
(FSC). Order yours below:
Select your Acrylic Color:* turquoise or charcoal

Please select the accent color of acrylic to be used.
Select Time Scale:*

Select the time scale you would like to appear at the top of your Geochron
map. This is included in the price.
Optional Item

Engraved Presentation Placard + $50.00
Personalize the unit with an engraved placard. Enter the information
below.

Dark Chocolate – Caramel – Vanilla
All the tones found in locally sourced Walnut, a hard wood with intense beauty. It is practically impossible not to touch and admire. Joined together with the Geochron timepiece it becomes a one of a kind functional art piece. Each slab of live edge walnut comes from salvaged trees in the Willamette Valley of Oregon and are hand picked by the designer. No two pieces of wood are alike.
The functionality of the Designer Series model is entirely identical to the Original Kilburg. The map size is identical, it has a minute analog dial in the top right hand corner and the light pattern changes in accordance to the date.
For this unique hand designed piece please allow 4 to 5 weeks for delivery from the order date.

A little history…….
Oregon walnut was brought over from England so it is not a native species. The trees were planted in orchards and yards. Many of these trees planted in the Pacific Northwest by early immigrants have been subjected to a spreading disease called Thousand Cankers Disease. The trees become a hazard and need to be removed from their location due to this disease. Instead of being destroyed completely they are rescued and turned into pieces of furniture or musical instruments.
Introduction to the designer…..
Kayla Burke is a product-based lighting designer in Portland, Oregon, applying modern twist to natural elements. Her passion for design derives from a background in product and interior design. Spending time constructing exquisite pieces in the studio at night, Kayla is also a commercial lighting designer by day. Each piece is constructed from the hard work of talented hands and you can be assured that your designer Geochron will be the only one of it's kind.
$4,295.00
Vinyl Laminate Finishes - $1795.00 (free shipping/handling)
The Geochron is the only instrument of its kind to simultaneously exhibit the current time anywhere in the world as well as displaying where the sun is rising, and when it will set.
Each gear is individually hand-cut to ensure optimum synchronization. Each world map is made using state of the art lithography printing which uses specially formulated inks designed to make the map resistant to ultraviolet light. And by the time each Geochron is hand-crafted for shipment anywhere, it has been personally inspected, passing through 24 designated key inspection points. Maps are made to order per customer's specifications.
After 40 years of building Geochron, every single device is still completely assembled by hand, lending a personal touch to each Geochron unit. Original prints from the first Geochron are still a large base for today's models and it is important that the Geochron remains an analog device.