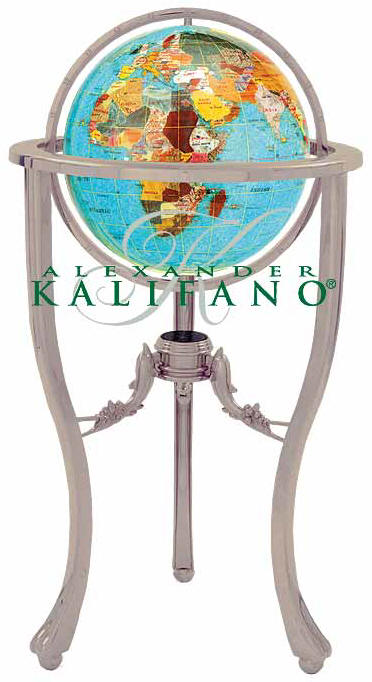 Gemstone world globes are handcrafted with a variety of semi precious stones. Each country and US State is individually carved to form it's unique shape, then positioned carefully to form a continent. The aqua gemstone globe is offered with 24 karat gold plated stand, featuring three graceful dolphin figurines.
Dimensions
Price
Diameter:
13" (33cm)
List:
$1100.00
Width:
17" (43cm)
Our Retail:
$550.00
Height:
32" (81cm)
Discontinued
Weight:
32 lbs. (14.5Kg)
Bahama blue gemstone globe is beautifully inlaid with over 25 semi precious stones selected from countries around the world and, where possible, display the country of origin. Longitude, latitude, equator and international date lines are added with a fine gold thread.
Globe Care Instructions: use a soft cloth with a small amount of rubbing alcohol to shine and remove fingerprints.
Stand Care: On the metal stand or arch, use a soft cotton cloth with a very small amount of hand lotion to remove fingerprints. Use a clean, dry cloth to wipe away the lotion and shine.