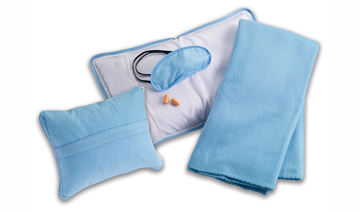 Airlines today either charge for these items, or don't offer them at all!
It's the ultimate let-go, and you can take it with you. Indulge in soft comfort wherever you go with this comfy, compact set.
Includes a full-size inflatable head pillow (18x3x11in inflated), 38x50 fleece blanket, eye mask with elastic straps and one pair of foam ear plugs.
When deflated, the pillow cleverly converts to a compact 11.5x2.5x9.5in zippered carry case for convenient comfort, and includes a strap for attachment to luggage handles. Blue or pink colors.
Item # 7199