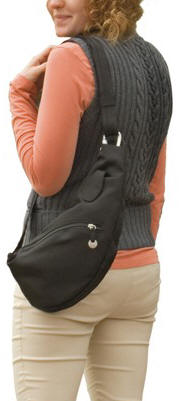 Item#TRV-42371

(Large 19" x 9" x 2.5")

Item#TRV-42297

(Small -17"x7"x 1.75")
Anti-Theft Sling Bag is designed to keep your belongings organized, safe and secure.
This ultra secure patent pending bag features the Cut-Proof Chain Link™ technology - the entire body of the bag is protected from pickpockets with hidden layers of wire, creating a slash-proof mesh.
Adjustable, cable-reinforced cut-proof
shoulder strap secures to post or chair. Locking zippers. Roomy main compartment. Smart phone pocket and zippered pocket.
Material: 900 D. Nylon
Protect your belongings from slash and grab pickpockets and thieves with the Anti-Theft Sling Bag.