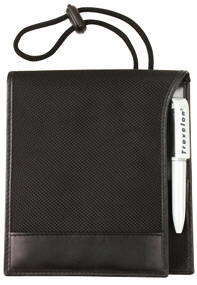 Colors:



Black
1680 D. Ballistic Nylon with Leather Trim
RFID (Radio-Frequency IDentification) Blocking Boarding Pass Holder prevents unauthorized access to personal information (in the form of a unique serial number) embedded in passports, state IDs, employment IDs, membership IDs and more.
Many debit/credit cards and driver licenses have RFID chips with personal and financial (account numbers) data. Boarding Pass Holder prevents illegitimate retrieval of your information.
Design enables you to be aware when your IDs are being scanned. Effectively blocks RFID readers, preventing exposure to RFID illegal reading devices, and safeguards your information for authorized users only.
Easy, hands-free check-in.
Travel documents and ID hang securely
around your neck.
Fold-over front flap snaps securely closed.
Size: 5.5" x 5" x 0.5"

Size: 14cm x 12.7cm x 1.3cm
Item # TRV-82021