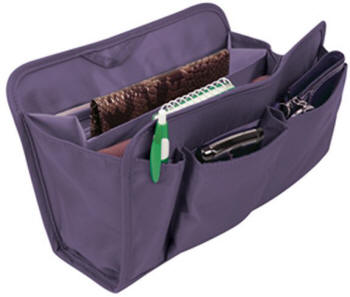 Colors:


Eggplant / Gray
Medium #TRV-22306
8" x 6.5" (21.3cm x 16.5cm)
Large #TRV-22307
9.5" x 6.75" (24cm x 17cm)
RFID (Radio-Frequency IDentification) Blocking Purse Organizer prevents unauthorized access to personal information (in the form of a unique serial number) embedded in passports issued after October 2006, state IDs, employment IDs, membership IDs and more. Many debit/credit cards and driver licenses have RFID chips with personal and financial (account numbers) data.
RFID Blocking Purse Organizer effectively blocks RFID readers, preventing exposure to RFID illegal reading devices, and safeguards your information for authorized users only.
Keeps handbag contents organized and accessible. Makes changing from handbag to handbag easy. Exterior pockets hold phone, camera, pen, tickets, receipts, coupons. Large gusseted main compartment. Microfiber.