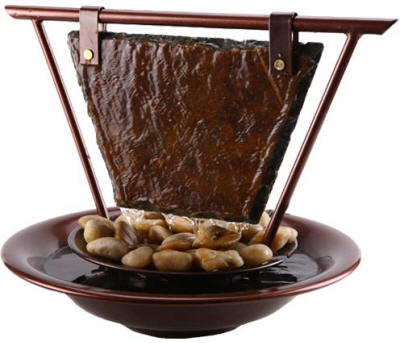 Item # BW-WWHMC
| | |
| --- | --- |
| Dimensions: | 11.25" H x 15" W x 13" D |
| Surface: | Natural Slate |
| Frame Color: | Dark Copper |
| Light: | Yes |
| Indoor Use: | Yes |
| Outdoor Use: | No |
| Capacity: | 0.5 Gallon |
The Haiku Moon is a lovely
handmade tabletop fountain featuring a natural slate panel hanging from a dark copper powder coated frame
over a bowl of polished stones
.
Water flows out of the tube at the top of the fountain, down the slate panel, eventually falling with a rhythmic and relaxing sound to the polished river stones below.
The Haiku Moon water fountain creates a great centerpiece for any table and comes complete with polished river rocks, a quiet adjustable submersible pump with Halogen Accent Light (low voltage). Easy 30 minutes or less installation assembly.
Features a water pump that is designed to provide exceptional pumping capacity with minimal maintenance. It allows you to set the water flow rate to create the exact mood that you want.