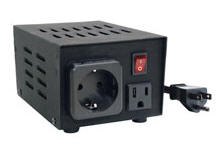 Model: TGC-2000

Input:
110-120VAC 60 Hz Step Up
220-240VAC 50 Hz Step Down
Output:
220-240VAC 60 Hz Step Up
110-120VAC 50 Hz Step Down
2000 Watts Maximum
Weight: 30.00 lb.
Dimensions: 6"H x 7.5"W x 9.25"D
Select the Step Up mode to increase voltage when using 220-240 volt electronic equipment and appliances in North America.
Select the Step Down mode to decrease voltage when using 120 volt North American electronic equipment and appliances in countries with 220-240 volt electricity.
Includes a grounded 120 volt North American socket, a grounded 240 volt Continental European (Schuko) socket* and 6 ft. cord with grounded North American plug.
Designed for continuous use.
Using a power strip, one can plug several appliances at the same time, as long as the total electrical rating for the above products does not exceed 2000 watts.
Transformer has a carrying handle.

NOTE: This transformer may require a Grounded Adapter Plug when used outside North America.