Electric Blue Tote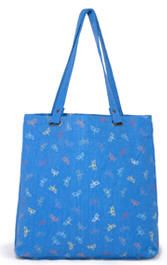 15" x 11" x 5"
A simple tote that is fun and easy to carry. The colorful dragonfly print makes it an eclectic accessory to add to any wardrobe. A secure zippered inside pocket keeps valuables safer while you are on the go.
Material: Lightweight distressed nylon. Each bag is treated to resist stains.
Colors: blue, orange, sea moss.
Dimensions:
15" x 11" x 5"
LEATHER Ameribag
BEST SELLING Ameribag
NEW Ameribags
SPORTS
Ameribags
OTHER Ameribags
Travel Accessories