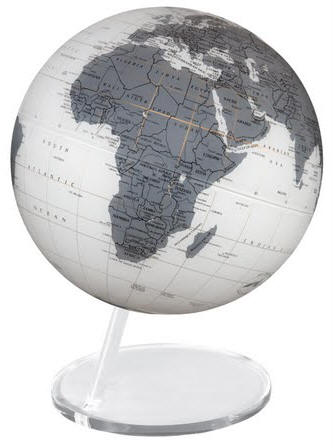 This collection offers models in 8",12",16" and 30" diameter spheres with matching sculptured bases, disk bases, pedestal bases or floor stands.
Disk base world globe features one of the newest contemporary base designs.
The 12-inch diameter White Earthsphere is suspended on a hand-cut and polished clear rod – the globe appears to be floating above the base. The 9" diameter clear base complements the Earthsphere. The overall height of this world globe is 17".
Earth sphere presents the most up-to-date cartography. Expertly silk-screened by hand on the interior surface of museum quality acrylic sphere are the grey land masses, latitude and longitude markings, and place names.
Earth sphere includes an information-packed booklet to help you use the sphere in learning more about our planet along with a Certificate of Authenticity signed and dated by the craftsman who created it.
What better way to more fully understand the world's geography than to study a highly accurate model of our planet. State-of-the-art technology allows us to offer a lifetime guarantee of quality and craftsmanship.
| | | |
| --- | --- | --- |
| 12" Globe | # ES-12WGDB | $178.99 (free ship/h) |
| 8" Globe | # ES-8WGDB | $121.99 (free ship/h) |
| 6" Globe | # EB-6WGDB | $69.99 (free ship/h) |
Globe Manufacturing Process