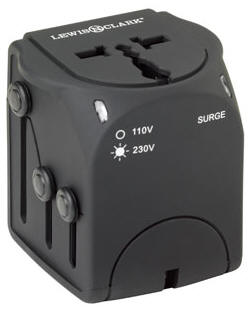 Item #EK140
$28.49 (free shipping/handling)
Adapter plug includes the four most common plug configurations to eliminate the need for carrying multiple adapters.
For use in more than 175 countries, including most parts of Africa, Asia, Europe (regular and recessed outlets), the Middle East, New Zealand, North America and Russia.
Built-in surge protection with indicator light.
6A fuse provides overload protection.
Safety shutters protect users from coming in contact with live parts.
Auto lock & release feature ensures that only one plug can be used at a time.
Voltage indicator light.
TPR (thermoplastic rubber) coating for soft-grip.
Important: Adapter plugs allow travel appliances to fit into foreign outlets. They do not convert electricity.
To use 110 volt North American appliances overseas (in 220-250 volt outlets) please view Transformers/Converters
Guide to International Travel With Electrical Appliances