| | | |
| --- | --- | --- |
| | 1st Stop Travel & Globe Store | |

World Globes > Decorative World Globes > World Globe
Library Decorative World Globe
Retail $670.00 Sale Price: $584.50 (free shipping/handling) or 6 monthly installments of $97.41 with PayPal Credit
Use COUPON CODE
"10NOW" for an additional
10% DISCOUNT
No Renaissance library, reception room, or merchant's office was complete without an elegant large globe on a stand.

Mapmakers and globe publishers issued new globes every year, keeping clients up to date on the latest discoveries and explorations. New trade routes, new ports of call, even new continents.

1 in Stock

Ready to ship in 1-2 days

Delivery: 1-5 days

Item # AM-GL047

Dimensions: 19" x 19" x 38"

Globe Diameter: 12.5"

Weight: 7.7 lb

Antique specialty map

The Library globe features full swing meridian mounted on a stylish wood floor stand.
Call us toll-free 877-822-9889 or 812-333-2772 for orders/questions Mon.-Sat. 10:00 am-5:30 pm Eastern Standard Time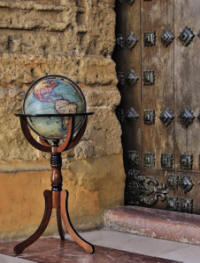 Library Reproduction Floor World Globe by Authentic Models, Item # AMGL047
Sale Price: $584.50, Traditional Globe, Antique Cartography, Blue Ocean, Wood Floor Base
World Globes make great gifts for Geography Buffs, Mother's Day, Father's Day & Graduation. Perfect as Wedding, Anniversary, Retirement Gifts, Corporate Awards, Business & Executive Gifts, Bon Voyage & Birthday Presents