| | | |
| --- | --- | --- |
| | 1st Stop Travel & Globe Store | |

World Globes > Antique Reproduction Globes > Christmas Ornament World Globe
Vaugondy World Globe Christmas Ornament
Set of 6 Ornaments: $79.99 (free shipping/handling)
Elegant hand made ornament depicting an old world globe by Parisian map and globe publishers Vaugondy in the 18th century. Precious silk ribbon is attached to an antique brass finial and enables you to hang the ornament anywhere.

114 in Stock

Ready to ship in 1- 2 days

Transit Time: 1- 6 days

Diameter: 3.25" (8.3cm)

Antique specialty map

Christmas Ornament

Vaugondy map makers, using the considerable resources available in 18th century Paris, produced well designed maps which were valued for their cartographical details and accuracy. Each map was thoroughly researched based on the company's geographical data, journals of explorers and missionaries of that period and astronomical observations.

Classic holiday décor comes with an elegant presentation box as seen below.
Call us toll-free 877-822-9889 or 812-333-2772 for orders/questions Mon.-Sat. 10:00 am-5:30 pm Eastern Standard Time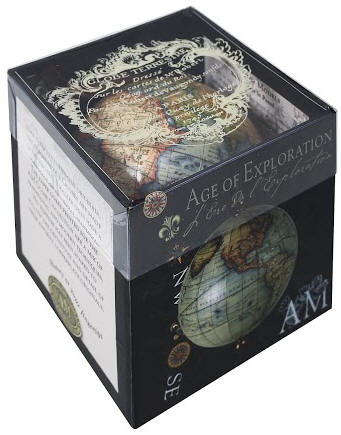 Christmas Ornament, Reproduction World Globe