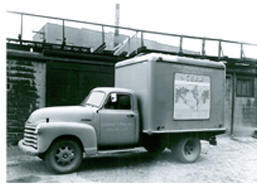 George Franklin Cram was a civil war veteran who marched with Sherman prior to his career as a map publisher. On March 18, 1867, George F. Cram and his uncle, Rufus Blanchard, founded the company Blanchard & Cram in Evanston, IL. The company manufactured and sold maps and atlases. Cram became the sole owner two years later and renamed it the George F. Cram Company. They sold a wide variety of atlases—including the popular Unrivaled Atlas of the World which was printed continuously from the 1880s to 1952.

In 1921, George Cram sold his business to one of his largest customers, E.A. Peterson of the National Map Company. The companies were combined at 32 E. Georgia St. in Indianapolis. The CRAM name continued on. On March 24, 1928, George F. Cram died at the age of 86.

In 1932, the George F. Cram Company began manufacturing globes. In 1936, the company moved again to 730 E. Washington St.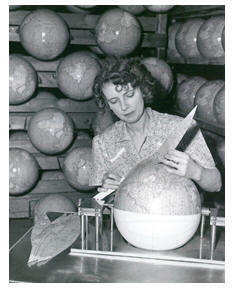 Mr. Loren B. Douthit joined the company in 1937 as a School Sales Field Manager to develop the potential of the school market. Between 1937 and 1966, Cram created a variety of educational maps and globes, including the Horizon Ring Globe.

Loren Douthit became President and majority shareholder of the company in 1966.

In March of 1968, CRAM moved again to 301 S. LaSalle St. where it remained for 38 years. Loren Douthit retired in 1978, passing the torch to his two sons. William Douthit became President and John Douthit became Vice-President.

CRAM remained in the Douthit family for 40 years until it was sold to another Indianapolis company, Herff Jones, in February 2005. Douthit family members continue to work for the company. CRAM moved to its newest location at 4719 W. 62nd St. on the Herff Jones corporate campus in 2006. It was part of a 160,000 square foot, state-of-the-art facility that allowed CRAM to better serve its customers.