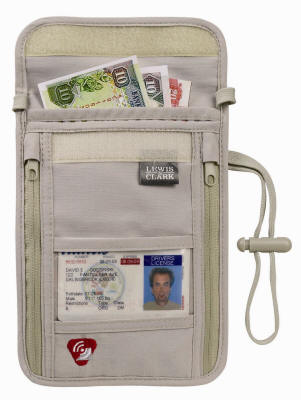 Dimensions: 8" x 4"
Design enables you to be aware when your IDs are being scanned. Effectively blocks RFID readers, preventing exposure to RFID illegal reading devices, and safeguards your information for authorized users only.
RFID Travel Wallet secures currency, ID and documents while traveling, protects against electronic pick-pocketing and identity theft.
RFID (Radio-Frequency IDentification) Blocking Passport Shield prevents unauthorized access to personal information (in the form of a unique serial number) embedded in debit/credit cards, driver licenses, state IDs, employment IDs, membership IDs, hotel keys, electronic gate keycards and more.
Many of these cards have RFID chips with personal and financial (account numbers) data. RFID Blocking neck stash prevents illegitimate retrieval of your information.

Features four separate compartments (for passports, credit cards, travel tickets, travel insurance documents, currency), ID window, and adjustable strap. Back panel fabric wicks away moisture for comfortable wear in hot weather.