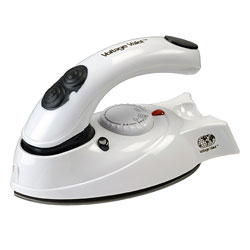 Dual voltage Iron (120/240 volts) for worldwide use features a compact design with folding handle for easy packing. Push button steam. Push button spray. Variable temperature control. Ready indicator light. Durable non-stick sole plate. Handy travel bag.
One Year Limited Warranty

NOTE: An adaptor plug (which enables you to plug the appliance into the outlet, not convert electricity) may be needed for use outside North America. To determine the adaptor plug you need please refer to our Guide to International Travel With Electrical Appliances section.
Weight: 1.25 lb.
Dimensions: 3.25"H x 3.5"W x 7"D

ID # VV-TS2