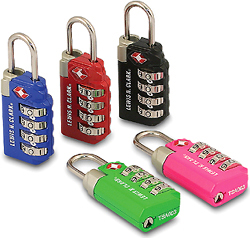 Offered in Black, Blue, Red, Neon Green, Pink and two new colors seen at left, Desert Camouflage and Hunter Camouflage.
4 Dial Combination - Travel Sentry™ Locks
1 lock $13.19 (free shipping/handling)

You may once again lock your luggage with peace of mind!
Our newest locks are accepted and recognized by the Transportation Security Administration - TSA screeners have a secured set of codes and tools to open Travel Sentry locks when necessary for inspection.
Travel Sentry™ Certified locks feature a special identification mark that alerts TSA personnel that they may open this lock without destroying it.