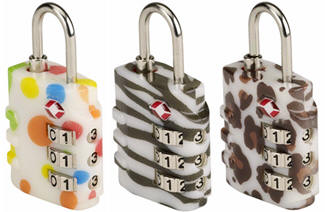 Out of Stock
3 Dial Combination Lock - Travel Sentry™
Lock it and check it. This resettable three-dial combination lock features the Travel Sentry® mark, which alerts TSA personnel that they may open this lock without destroying it.
Travel Security Administration screeners can securely unlock and relock your luggage for security inspection at US domestic airports.
A red ring will appear around the base of the shackle if your luggage has been searched. You may once again lock your luggage with peace of mind!