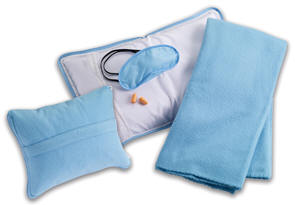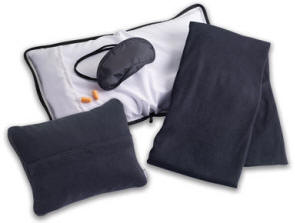 Comfort set includes a full-size inflatable pillow, fleece blanket, eye mask and ear plugs.
When deflated, the pillow quickly converts to a compact, zippered carry case. Convenient strap easily attaches to luggage handles.
Full-size inflatable pillow (18 x 3 x 11in) cradles head and neck in soft support.
38 x 50in fleece blanket
Eye mask with elastic straps
Foam ear plugs
11.5"x 2.5"x 9.5" when deflated
Indulge in soft comfort wherever you go with this compact set.
Offered in Blue, Black