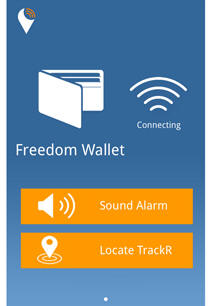 The Royce Wallet Tracker device inside this Top Grain Nappa Leather Wallet is seamlessly compatible with mobile devices that utilize Bluetooth 4.0 technology. Some examples of mobile devices that utilize this technology are: iPhone 5c, iPhone 5s, iPhone 5, iPhone 4s, iPad Mini, iPad 3, iPod Touch 5th Generation, Samsung Galaxy S3, Samsung Galaxy S4, Samsung Note 2, Samsung Note 3 and all future models of these mobile devices.
The Freedom Wallet is crafted with state-of-the-art RFID blocking material to stop thieves from fraudulently accessing your personal electronic information. RFID is a technique that transmits the identity (unique code embedded in a chip) of a person or item wirelessly, using radio waves. RFID chips are embedded in passports, debit/credit cards, driver licenses, state IDs, etc. RFID may be scanned at airports, border crossings, etc.
Included with your purchase: free access to the GPS Tracking mobile application, coin cell batteries CR2016, Royce Wallet Tracker Bluetooth device, and detailed set-up instructions.