| | | |
| --- | --- | --- |
| | 1st Stop Travel & Globe Store | |

Call us toll-free 1(877) 822-9889 Monday-Saturday 10:00am - 5:30pm Eastern Time

Travel Accessories > Security Essentials > Waist Pack
Anti-Theft Waist Pack
Sale $54.99 (free shipping/handling) Retail: $62.99
Dimensions: 9" x 6" x 2"

Anti-Theft Waist Pack is designed to keep your belongings organized, safe and secure.

This ultra secure patent pending waist pack features the Cut-Proof Chain Link™ technology - the entire body of the bag is protected from pickpockets with hidden layers of wire, creating a slash-proof mesh.

Adjustable cut-proof waist strap. Roomy main compartment with pockets for organization. Organizer compartment with card slots. External cell phone pocket. Locking zippers.

Material: 900 D. Nylon

Item#TRV-42223

Protect your belongings from slash and grab pickpockets and thieves with the Anti-Theft Waist Pack.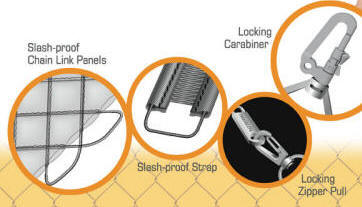 Call toll-free 1(877) 822-9889 Monday-Saturday 10:00 am-5:30 pm Eastern Standard Time
Anti-Theft Waist Pack, Secure Bag