LivingstonIlluminated World Globe by Replogle Globes
Illuminated 12 inch desk globe. The Livingston is traditionally styled with a hardwood base and die-cast calibrated semi-meridian.

Two-way, raised relief map design provides a standard view of the physical world, as seen at left.

The illuminated display of the world with up-to-date political boundaries can be seen below. Features thousands of place names.
Call us toll-free 1(877) 822-9889 for orders/questions Mon.-Sat. 10:00 am-5:30 pm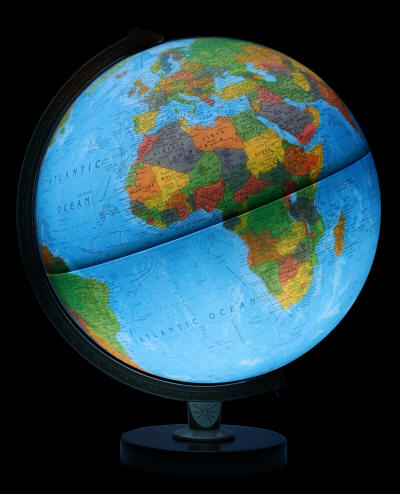 Livingston Illuminated Desktop World Globe by Replogle Globes, Item # 86506
Sale Price: $99.95, Dual Cartography, Desk Globe, Lighted Globe, Light Up World Globe, Wood Stand, illuminated world globe, world globe lamp
World Globes make great gifts for Geography Buffs, Mother's Day, Father's Day & Graduation. Perfect as Wedding, Anniversary, Retirement Gifts, Corporate Awards, Business & Executive Gifts, Bon Voyage & Birthday Presents