Featuring a fig pattern in trendy cooler soft hue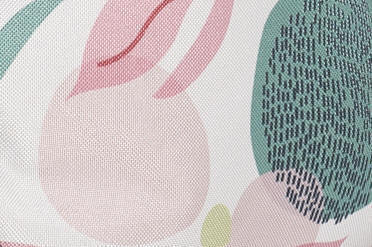 The patented ergonomic design of the Healthy Back Bag® tote makes the weight feel lighter by redistributing the bag's center of gravity, while relieving stress on the neck, shoulders and back. Healthy Back Bag® totes feature highly organized interiors with functional, varied organizer pockets.
Soft to the touch
Luxuriant in look & feel
Vibrant colors
Water resistant
Lightweight
Breathable
Durable and strong
Spot clean
Exterior Features: Non-slip, adjustable shoulder strap. Double zip main compartment for easy and secure access. Metal hardware. Interior & exterior spine pocket. 2 additional pockets.
Ameribag Security:
The main double zipper is accessible only to you without taking the bag off. You can also lock the zipper pulls with a 3 dial Travel Lock for a worry free trip.
Ameribag Interior Features:
5-6 interior pockets. Signature easy-see silver lining. Handy key hook. D-ring for Baglett or other accessories.
HBB style has an additional i

nterior zippered padded pocket that holds a tablet computer or anything you need to protect.*

Easy-to-access exterior pocket fits any cell phone and has a

magnetic closure.

A cushioned neoprene strap rests comfortably on your shoulder allowing a molded fit to your body.

I

nterior angled pockets are in all Small, Medium and Large sizes.