New Color Blue Sky Ameribag
New Color Dove Grey
New Color Misty Blue
New Color Blue Sage
New Color Garnet
New Color Coffee Bean
Slate
Plum
Sandstone
Sea Moss
Royal Purple
Black
Chocolate
Red
Taupe
The patented ergonomic design of the Healthy Back Bag® tote makes the weight feel lighter by redistributing the bag's center of gravity, while relieving stress on the neck, shoulders and back. All Healthy Back Bag® totes feature highly organized interiors with functional, varied organizer pockets.
Soft to the touch
Luxuriant in look and feel
Vibrant colors
Water resistant
Lightweight
Breathable
Durable and strong
Spot clean
Exterior Features: Non-slip, adjustable shoulder strap. Double zip main compartment for easy and secure access. Metal hardware. Interior & exterior spine pocket. 2 additional pockets.
Ameribag Security:
The main double zipper is accessible only to you without taking the bag off. You can also lock the zipper pulls with a 3 dial Travel Lock for a worry free trip.
Ameribag Interior Features:
5-6 interior pockets. Signature easy-see silver lining. Handy key hook. D-ring for Baglett or other accessories.
HBB style has an additional i

nterior zippered padded pocket that holds a tablet computer or anything you need to protect.*

Easy-to-access exterior pocket fits any cell phone and has a

magnetic closure.

A cushioned neoprene strap rests comfortably on your shoulder allowing a molded fit to your body.

I

nterior angled pockets are in all Small, Medium and Large sizes.

X-Small Healthy Back Bag holds up to iPad mini sized tablets

and

has 4 internal pockets.
Ameribag Materials:
Strong, soft

lightweight

and luxuriant microfiber material

has been bonded to a nylon knit backing for added durability.

Water resistant

.
Each bag is treated to resist stains.

Subtle sheen adding luster and depth.
LEATHER Ameribag
BEST SELLING Ameribag
NEW Ameribags
SPORTS
Ameribags
OTHER Ameribags
Travel Accessories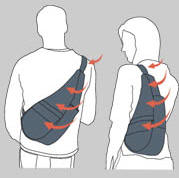 Black Microfiber Ameribag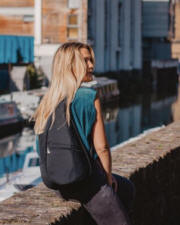 Black microfiber is #1 bestseller. Super smooth, weather-resistant, lightweight and hard-wearing.
Navy