The Baglett is the perfect solution when all you need are the essentials.
Size: 8" x 4.5" x 3.5"
Features a detachable strap so you can switch from shoulder bag to clutch-purse in a single click.
It can be hung inside any Healthy Back Bag® Tote for added organization, or be worn on its own over the shoulder, across the body or around the waist.
Made of quality leather.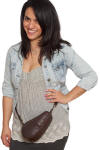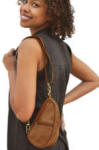 LEATHER Ameribag
BEST SELLING Ameribag
NEW Ameribags
SPORTS
Ameribags
OTHER Ameribags
Travel Accessories