| | | |
| --- | --- | --- |
| | 1st Stop Travel & Globe Store | |
World Globes
>
Decorative World Globes
>
Hondius 17th Century Decorative World Globe
Retail $365.00 Sale Price: $290.00 (free shipping/handling) or 6 monthly installments of $48.33 with PayPal Credit
Use COUPON CODE "10NOW" for an additional 10% DISCOUNT
Hondius world globe is displayed on a classically elegant stand made with ebonized wood and bronze.

Whether you place it as your table centerpiece, desk accessory, or at the corner of your room, this globe will surely add the perfect finishing touch to your home decor.

Globe Width: 13.75"

Total Height: 24"

Cartography: Replica 18th Century

Base Classic

Manufacturer: Authentic Models

The globe, named after the famous cartographer (whose image can be seen below) replicates a model designed in 1627. It is supported by calibrated semi-meridian.
Call us toll-free 877-822-9889 or 812-333-2772 for orders/questions Mon.-Sat. 10:00 am-5:30 pm Eastern Standard Time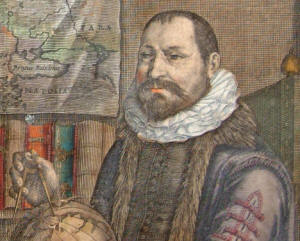 Authentic Models creates and distributes a comprehensive collection of historical reproductions and unique home décor worldwide. The aim is to challenge the mind as well as the eye. No other company in the world offers reproduction antique globes and armillary of similar quality and affordability. Attention to detail is key. All globes are made using original charts, researched for their historical accuracy and visual appeal. Centuries ago globes were made by gluing copperplate printed gores on a plaster finished papier-mâché core. Given the limited technology available at the time, a complicated production process, and a multitude of specialists involved, it was logical that only the very rich could afford to own globes. This is illustrated by 18th C. Dutch painters who used globes to symbolize affluence, science, sophistication, and even worldliness. Authentic Models globes offer history at your fingertips and highlight some of the world's most famous cartographers: Mercator, Hondius, and Vaugondy.
Hondius Reproduction Desktop World Globeby Authentic Models, Item # AMGL035
Sale Price: $290.00, Traditional Globe, Antique Cartography, Beige Ocean, Wood Tabletop Base
World Globes make great gifts for Geography Buffs, Mother's Day, Father's Day & Graduation. Perfect as Wedding, Anniversary, Retirement Gifts, Corporate Awards, Business & Executive Gifts, Bon Voyage & Birthday Presents