| | | |
| --- | --- | --- |
| | 1st Stop Travel & Globe Store | |
Finley Large Illuminated Floor Standing World Globe by Replogle
Sale Price: $1,950 (free shipping/handling) Retail $2450 or 6 installments of $325 with PayPal Credit
Use COUPON CODE
"10NOW" for an additional
10% DISCOUNT
Finley world globe has a fine contemporary quality.

Its impressive 37-inch height and the clean simple lines of the hardwood base provide an attractive backdrop for its 20-inch diameter illuminated ball with hand-applied, hand-cut map.

Choose dramatic blue ocean styling, or the rich, understated antique version to reflect your personal style. Full engraved aluminum meridian in a brushed brass color. Light control.

Finley Globe with Blue Oceans # 65132 - 2 in Stock

Finley Globe with Beige Oceans # 65032 - 5 in Stock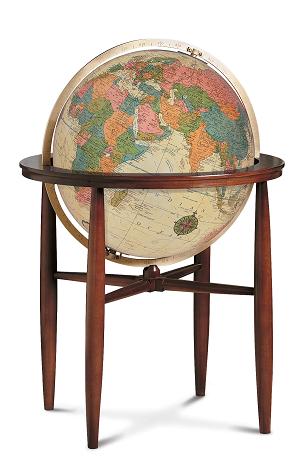 Call us toll-free 877-822-9889 or 812-333-2772 for orders/questions Mon.-Sat. 10:00 am-5:30 pm Eastern Standard Time
Full-swing antique style brass-plated die-cast meridian (ring supporting the globe) allows the ball to be turned 360° for easy access to thousands of points of interest from any possible angle. The globe revolves within the meridian (East/West), and the meridian swings within the stand (North/South).

The Updatable Globe Program

From time to time, the world does change. Replogle Globes wants to help you keep your globe as up-to-date and accurate as the day you bought it. As a Replogle globe owner, you are eligible for 50% off the retail value of a new globe ball through our Updatable Globe Program. To take advantage of Replogle's Updatable Globe Program, fill in your globe model (5-digit number on carton) enclosed with your globe and keep this card in a safe place. If a change occurs in the world, contact Replogle at the address or phone number on the card.
Finley Large Illuminated Floor Standing World Globe by Replogle Globes, Items # 665032, 65132
Sale Price: $1950.00, Current Cartography, Lighted Globe, Wood Floor Stand, world globe lamp, globe for sale, best globe
World Globes make great gifts for Geography Buffs, Mother's Day, Father's Day & Graduation. Perfect as Wedding, Anniversary, Retirement Gifts, Corporate Awards, Business & Executive Gifts, Bon Voyage & Birthday Presents