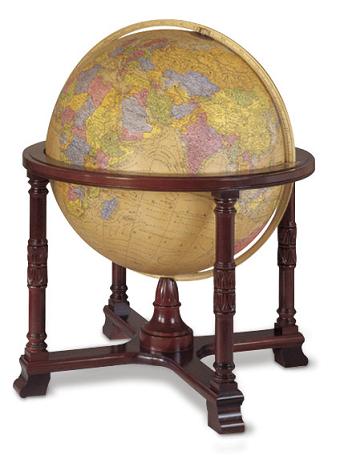 Item # 65225

Search the world over and you won't find a better example of the globe making art.
A handcrafted masterpiece, this extraordinary globe features lavish attention to both form and function.
Distinctive details include touch illumination, rich ten-color cartography and a solid brass hand-engraved meridian. The map is hand-cut and carefully hand applied. The hand-carved genuine solid mahogany cradle mounting rubbed to a lustrous walnut-finish further emphasizes the Diplomat's uncommon beauty.
TOUCH ILLUMINATION is a deluxe feature unique to Diplomat, the largest of Replogle globes: by touching any part of the Diplomat's brass meridian ring with your fingertip, you can control 3 light levels, as well as the turn-off feature.
Comprehensive 32" diameter globe ball featuring over 20,000 place names ranks the Diplomat as the world's most detailed globes. A perfect blend of the aesthetic and functional.
| | |
| --- | --- |
| Globe Diameter: | 32" (81 cm) |
| Stand Width: | 40" (101 cm) |
| Stand Height: | 32" (81 cm) |
| Total Height: | 51" (128 cm) |
| Cartography: | Current |
| Place Names: | 20,000 locations |
| Updatable Globe: | Yes, please view details below |
| Shipping Weight: | 119 lb. - globe ships in 2 cartons |
Complimentary Gift
Show your support of your local school, Boys and Girls Club or other educational organization with a FREE Finley Illuminated World Globe
Finley Blue
$1500.00
(free s/h)
Complimentary Gifts of Replogle world globes will be shipped FREE of charge with original purchase to same US contiguous address.
Complimentary Replogle globes may be shipped to a different address for an additional shipping fee.
Each globe purchased qualifies for one in stock complimentary globe.