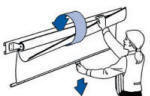 The Advanced Physical Wall Map series features innovative shaded relief detail of the world, continents, and the United States. This high quality series is appropriate for grades 6-12, and includes content that meets national and state curriculum standards. Four thematic inset maps enhance the value of the main map, featuring: annual rainfall; elevation profile; natural vegetation areas, plus areas of acid rain; population density per square mile and ethnic diversity; and energy resources and manufacturing areas. The world map features the Van Der Grinten projection.
Size: 64" X 49"

Markable
Make the best use of your space with these multi-map rolled sets, mixing and matching any Continent wall map title in the Advanced Political Wall Map series.
Size: 64" X 49"

Markable
Include a wealth of geographic information: country boundaries, national capitals, cities, major waterways, longitude/latitude lines, mountain ranges, rivers, lakes, deserts and more. All maps are printed on high quality, tough, non-tear paper. Wall Maps are a great addition to any classroom or office.
Political wall maps (at left) have bright contrasting colors that make locating places easy.
Please allow 2-4 weeks for delivery on multiple wall map custom sets.