| | | |
| --- | --- | --- |
| | 1st Stop Travel & Globe Store | |

World Globes > Desktop Globes > Mova Globe > Star Constellations
MOVA Globe - Star Map Solar Power Revolving Globe
Price: $198 (free shipping/handling) or 6 monthly installments of $33 with PayPal Credit

Item # MG-45-STA

Star Map MOVA globe features the 88 constellations in a metallic silver finish over a deep blue background, as may be seen at night from both northern and southern hemispheres. Constellations have been used for navigation for thousands of years. Featuring men, women, animals and insects, star constellations have been the source of numerous stories and legends for as long as the humans walked the earth. This modern map will help you to identify and name these storied objects that we see every night.

•

No batteries / wires required.

•

Globe

's solar cells create energy to power the motor in a q

uiet and visually pleasing

motion

.

•

O

perates on any stand or surface*

(except for those made of iron or metal alloy

that can be

magnetized).

•

M

otor requires small amounts of light to

continue

operating smoothly in a

s

oothing, meditative motion.

•

Dimensions: 7.5" x 4.5" x 4.5

•

Includes an elegant acrylic stand.

•

Offered with an informative user manual.

•

Realistically recreates Titan's revolution in space.

•

MOVA

Globes operate virtually anywhere

indoors with

an average room light.

•

MOVA globe requires no

maintenance.

•

MOVA Globes are also available with elegant optional Bases (seen below), including Crystal stands, suitable for

engraving.

MOVA

world globe uses solar power, as well as the force of planet earth's magnetic field to perpetually revolve on virtually any* surface. The globe rotates

in continuous motion

as if by magic on an elegant stand. No batteries or wires are required.

This unique MOVA world globe makes for a truly stylish and exceptional corporate gift or award.
Call us toll-free 877-822-9889 or 812-333-2772 for orders/questions Mon.-Sat. 10:00 am-5:30 pm Eastern Standard Time
---
Optional Bases for MOVA Globes please select Globe Stand button above to view prices
Arched Pedestal WOOD
4.5" Globe on Black Square
Medium Crystal Base (4.5" globe)
Cobra Wooden Base
Arched Pedestal BLACK
Small Crystal Base (for 4.5" globe)

Out of Stock

4.5" Globe on Wood Square
8.5" Globe on Round Base
8.5" Globe on Crystal Base
To purchase additional optional Bases please click here
The MOVA globe rotates peacefully and silently using only the energy of room light and the force of the earth's magnetic field.
This is possible because the MOVA globe is actually an inner globe that rotates and is contained within an outer shell made of very clear acrylic that does not rotate. The thin space between the inner globe and outer shell is filled with a safe, perfectly clear fluid that buoyantly supports the inner globe completely out of contact with the outer shell. This inner globe, floating and turning in a virtually friction-free environment and energized by light, is analogous to the earth itself.

The optical properties of the outer shell and fluid are carefully chosen so that the graphic features on the surface of the inner globe are magnified and appear to be on the outer surface of the outer shell. This means that the outer shell actually appears to move. The MOVA globe can rest on an attractive three fingered stand that is provided, or on just about any other kind of stand that can be chosen to complement it's graphic design. The MOVA globe appears to rotate in spite of resting on the stand, in quiet defiance of commonly held ideas about the laws of friction.

A carefully designed, and highly efficient drive mechanism within the inner globe drives the rotation even in room light. Energy for the drive is provided by very advanced solar cells within the inner globe, illuminated by light passing through the graphic on the globe. The drive includes a magnetic element that reacts with the earth' s magnetic field, much as a common compass does, to provide torque to drive the globe.

All of these elements of the MOVA globe cooperate to create a beautiful, magical object that provides a meditative point of focus to any room.
---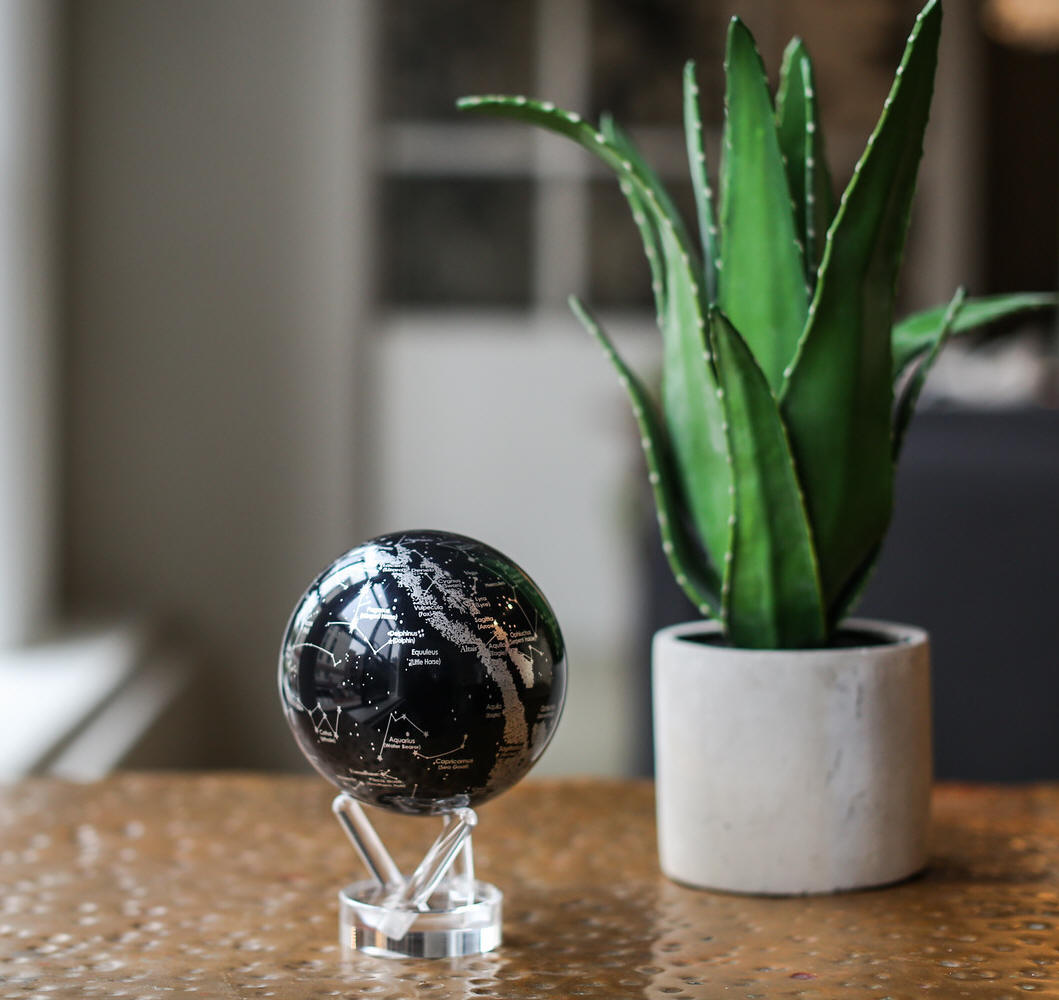 Call us toll-free 877-822-9889 or 812-333-2772 for orders/questions Mon.-Sat. 10:00 am-5:30 pm Eastern Standard Time
MOVA globe, solar power product, globe awards, world globes, stars map, constellation