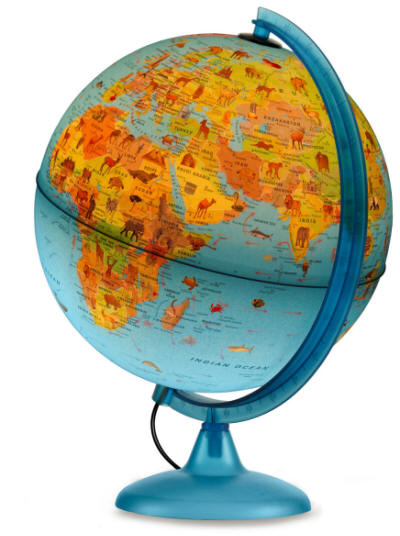 The Safari Children's world globe is fashioned in a traditional desktop style.
Hundreds of different animal illustrations and place names are included on
this globe showing the geographic location in which the various animals are best known to reside.
The illuminated feature (see image below) allows the globe to be turned on and makes this globe into a perfect night light.
This 10 inch diameter globe includes a hard blue sturdy base and a numbered semi-meridian (arch holding the globe) that will withstand countless hours of study.
The 14 inch tall globe is illuminated by an internal light. The attached cord exits the globe at the attachment between the globe and meridian at the south pole and includes an inline switch to easily turn globe on and off.

Compact Design for Desk, Bookshelf or Small Table. Intended for ages 3+.