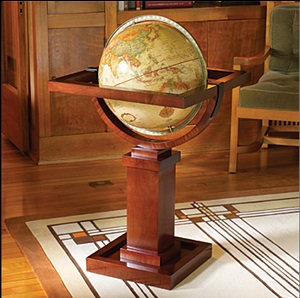 Raised Relief - to better emphasize the mountainous areas of the world - there are 'bumps' on some areas of the globe. They are called raised relief. They are there so that you can 'SEE & FEEL' the mountains - although their actual height on the globe does not have any relationship to the true relative heights of the mountain ranges.
Full-swing antique style brass-plated die-cast meridian (ring supporting the globe) allows the ball to be turned 360° for convenient view of all points of interest from any possible angle. The globe revolves within the meridian (East/West), and the meridian swings within the stand (North/South).
Time dial is located over the north pole, allowing viewers to calculate different time zones on the globe.
Wood Finishes - additional colors available upon request.
* Globe is inspired by Frank Lloyd Wright's architectural designs
** A portion of the sales supports the conservation and education programs of the Frank Lloyd Wright foundation.
The Updatable Globe Program
From time to time, the world does change. Replogle Globes wants to help you keep your globe as up-to-date and accurate as the day you bought it. As a Replogle globe owner, you are eligible for 50% off the retail value of a new globe ball through our Updatable Globe Program. To take advantage of Replogle's Updatable Globe Program, fill in your globe model (5-digit number on carton) enclosed with your globe and keep this card in a safe place. If a change occurs in the world, contact Replogle at the address or phone number on the card.