| | | |
| --- | --- | --- |
| | 1st Stop Travel & Globe Store | |
World Globes > Replogle Floor Globes > Barrel Floor World Globe
Barrel Floor World Globe by Replogle Globes - inspired by Frank Lloyd Wright's designs
Retail $1150.00 Sale Price: $955.00 (free shipping/handling) or 6 installments of $159.17 with PayPal Credit
Use COUPON CODE
"10NOW" for an additional
10% DISCOUNT
Made in United States

This unusual elegant 16" floor standing world globe features an open faced Bronze Metallic map. Full-swing die cast meridian ring supports the globe and allows the viewer an easy access to all place names on this 16" diameter fully up-to-date globe.

The floor oak stand* is a modified version of the famous "Barrel Chair" originally designed by Frank Lloyd Wright in 1903 and modified for his personal use at "Taliesin" in Spring Green, Wisconsin as well as for Herbert F. Johnson for his home "Wingspread" in Racine, Wisconsin in 1937.

Globe Model # 27823

25 in Stock

Ready to ship in 1-2 days

Delivery: 1-5 days

Diameter:
16" (40cm)
Total Height:
39" (99cm)
Width:
21" (53cm)
Weight:
12.3 lbs. (5.6 Kg)

Map Color:

Bronze Metallic

Globe Map:

Up-to-date
Illuminated:

No

Language:

English

Globe Surface:

Raised Relief

**
Full Meridian:
Die-cast metal
Floor Stand:
Medium Walnut
Shows individual U.S. states

Time dial is located over the north pole, allowing viewers to calculate different time zones on earth.
Call us toll-free 877-822-9889 or 812-333-2772 for orders/questions Mon.-Sat. 10:00 am-5:30 pm Eastern Standard Time
* Wood Finishes - additional colors available upon request.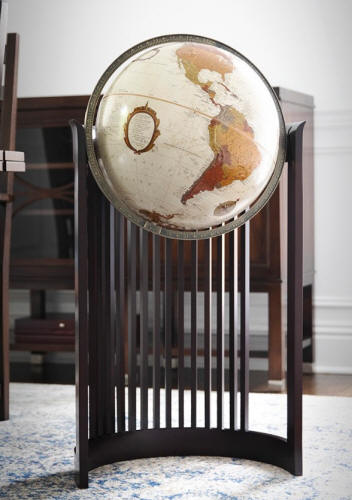 Raised Relief

- to better emphasize the mountainous areas of the world - there are 'bumps' on some areas of the globe. They are called raised relief. They are there so that you can 'SEE & FEEL' the mountains - although their actual height on the globe does not have any relationship to the true relative heights of the mountain ranges.
Time dial is located over the north pole, allowing viewers to calculate different time zones on the globe.
Full-swing Meridian
Antique style brass-plated die-cast meridian (ring supporting the globe) allows the ball to be turned 360° for easy access to thousands of points of interest from any possible angle. The fully up-to-date globe revolves within the meridian ring (East/West), and the meridian swings within the stand (North/South).
Updatable World Globe Program
Replogle wants to help you keep your globe as up to date and accurate as the day you bought it. You are eligible for 50% off the retail value of a new globe ball or ball and ring through the Updatable Globe Program. To take advantage of this offer available in USA and Canada, make note of your globe model (5-digit number on carton) and the month and date of purchase and keep this information in a safe place. If a change occurs in the world, you can request an update

.
Barrel Floor World Globe by Replogle Globes, Item # 27823
Sale Price: $955.00, Inspired by Frank Lloyd Wright Design, Current Cartography, Raised Relief, Wood Floor Stand
World Globes make great gifts for Geography Buffs, Mother's Day, Father's Day & Graduation. Perfect as Wedding, Anniversary, Retirement Gifts, Corporate Awards, Business & Executive Gifts, Bon Voyage & Birthday Presents