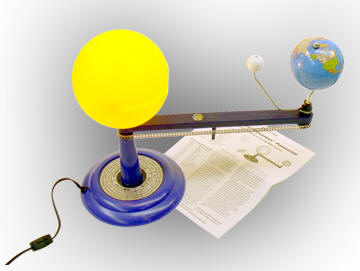 The Elementary® planetariums (orreries) are available as lighted models (M-M20), or unlighted (M-M10) models. These planetariums are suggested for use as a beginning model, and show individual concepts, one at a time. In this model, the Earth and Moon are moved by hand. The ladder chain and gear drive is used solely to keep the axis of the Earth pointed at a 23-1/2° angle, toward the North Star. A few of the many concepts that can be demonstrated with this model are: The reason for the occurrence of night and day. The variation in the length of daylight. The movement of the Earth around the sun from west to east. Why only one side of the moon is seen from the Earth. How eclipses of the sun and moon occur. Cause of the phases of the moon. These are but a few of the many basic phenomena which can be explained and demonstrated with either of these elementary astronomy models. An instruction book, Elementary Planetariums, is included. Special Note: Earth may have a dark blue or black ocean.
| | |
| --- | --- |
| Height: | 12" |
| Arm length: | 12.5" |
| Sun: | 5 3/4" |
| Earth: | 4" |
| Shipping Weight: | M-M20- 6 lbs, M-M10 - 5 lbs. |
Portable desktop Planetariums have been produced for over 90 years by Trippensee. They provide many visual demonstrations that clarify the relationships of the solar system elements in motion, for children and adults interested in learning more about the universe around them. Perfect for school or as home planetarium.