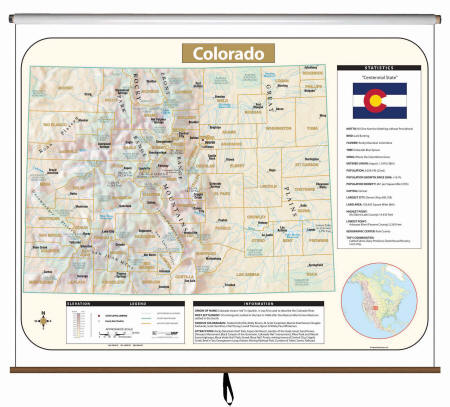 Item # KP16633
The Colorado Large Scale Shaded Relief Topographical Wall Map measures 64″ by 54″ (approximately), is laminated, making it durable, markable, and easy to clean.
Map is full-color and includes historical, anecdotal, and geographical information, an elevation scale measured in meters and feet, and a distance scale measured in miles and kilometers. Identifies county boundaries, the state flag, motto, bird, flower, and tree, plus total area, population, and origin of name.
Map mounted on spring roller: $189.00 (free s/h)
Mounted on roller with steel backboard: $209.00 (free s/h)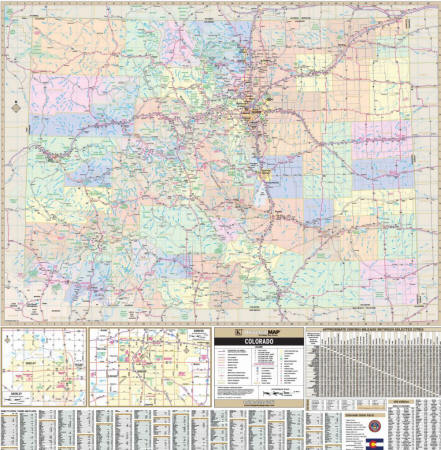 Item # KP17532
The 2nd edition Colorado Indexed State Wall Map with a laminated, markable, and washable surface. Indexed on the map's face. Provides color-coded counties, a mileage chart between major cities, and framing rails mounted top and bottom.
Other features include all state and federal highways, major waterways, state universities, military installations, airports, hospitals, state and national parks, points of interest, cities and towns complete with populations, wildlife areas, and rest areas.
Framing rails are included on top and bottom for easy wall mounting.
Railed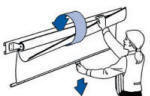 wall maps can be turned into pull down maps on spring rollers (total dimensions of 64W″ by 54H″) or on roller with backboard for an additional fee.
$209.00 - $249.00 (free s/h)