Item # KP16707
The New Hampshire Large Scale Shaded Relief Topographical Wall Map measures 64″ by 54″ (approximately), is laminated, making it durable, markable, and easy to clean.
Map is full-color and includes historical, anecdotal, and geographical information, an elevation scale measured in meters and feet, and a distance scale measured in miles and kilometers. Identifies county boundaries, the state flag, motto, bird, flower, and tree, plus total area, population, and origin of name. Map is mounted on a roller.
$169.00 (free s/h)
USA / World / New Hampshire - 3 Map Set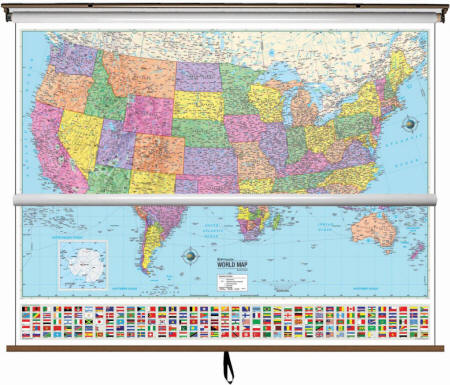 Please let us know which of the New Hampshire Maps you would like to include in this custom made map set. You can add this information in the Special Instructions section of the Sopping Cart.
Item # KP30585
State of New Hampshire map is available as a part of 3 map combination set of USA/World/New Hampshire State
$349.00 (free s/h)
Make the best use of your space with these multi-map sets providing a wealth of valuable information including country and state boundaries as well as capitals, major waterways, and major cities. This high quality series meets national and state curriculum standards.
All maps in this series are markable with a dry erase or water-soluble marker. Durably laminated maps measure 64″ x 54", and are mounted on roller with backboard.