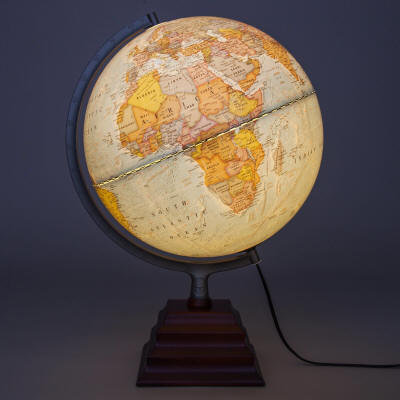 The Pacific illuminated world globe by Waypoint features an up-to-date smooth 12" globe with silver color finished metal numbered meridian.
What sets this globe apart from others is the level of ocean detail within the cartography, showing off many ocean floor features not shown or identified on most globes. The political boundaries and place names referenced on the globe are current and updated with each production cycle, ensuring you receive the most updated product available.
The pagoda style wood base compliments the globe which can be used for reference and decor for the home or office. The LED Illuminated feature built into the acrylic globe allows you to turn the globe on and off via an external cord with inline switch (shown at right) which exits the adjoined meridian at the south pole.
When the globe is illuminated it enhances the look of the cartography of the map, named places and points of interest. It also serves as a back light or night light in any room.
1 year manufacturer's warranty