NASA announced VIPER rover landing in search of water at the Moon's south pole.
Full article by David Dickinson can be seen at https://skyandtelescope.org/astronomy-news/nasa-announces-moon-landing-site-for-viper-mission/
According to National Geographic article published in June 2019, a huge mystery blob was found under the moon's far side by NASA's Lunar Reconnaissance Orbiter.
Scientists will be able to better understand how all rocky bodies came to be thanks to this discovery.
Full article can be seen at: https://www.nationalgeographic.com/science/2019/06/massive-blob-discovered-moon-surface
For anyone who wants to know a bit more about the moon and how its craters are formed, the folks at Night Sky Pix wrote a mega guide on the topic. You can read it at:
https://nightskypix.com/why-does-the-moon-have-craters/
Moon 12" Globe
Moon Rotating Globe
NASA Moon 12"
Celestial Star Globe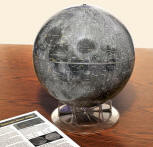 $89.95 (free ship/h)
$134.99
(free s/h)
$180.00 (free s/h)
$134.99
(free s/h)
$119.99 (free s/h)