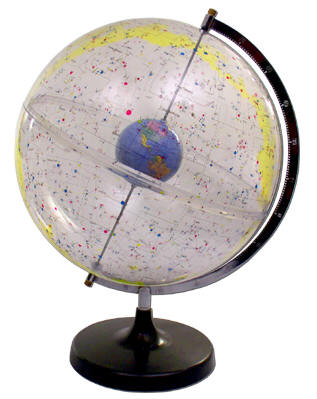 Celestial Globe features a transparent 12" (30 cm) sphere with a 3" (7.5 cm) planet earth.
The earth globe is mounted within the center of the sky globe and can be rotated to align a position on the ground with a position in the sky. The Celestial globe is a great reference for identifying stars and constellations.

The 3 dimensional format allows students to conceptualize their position from the outside in, giving a greater understanding of the movements of the earth relative to the star field.
It is a perfect companion to increase your enjoyment of start gazing with your binoculars or telescope as well.
Explore the universe that surrounds us-from the many constellations in our heavens.