Dimensions - 19" X 11" X 7"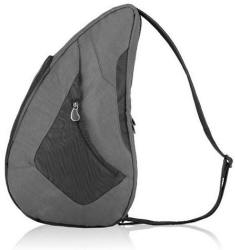 Urban Traveler is an updated version of the ever popular Healthy Back Bag®. It is a unisex bag ideal for an active lifestyle.
Features:
RIFD protected pocket helps prevent identity and credit card theft.

Padded interior tablet fitting pocket.

Dual zippered main compartment.

Lightweight durable machine washable quick-drying Nylon material.

Weather resistant

Adjustable non-slip shoulder strap.

Ergonomic and form fitting to your back

Multi-pocketed interior

Colors: Grey or Blue Night
The patented ergonomic design of the Healthy Back Bag® tote makes the weight feel lighter by redistributing the bag's center of gravity, while relieving stress on the neck, shoulders and back. All Healthy Back Bag® totes feature highly organized interiors with functional, varied organizer pockets.
LEATHER Ameribag
BEST SELLING Ameribag
NEW Ameribags
SPORTS
Ameribags
OTHER Ameribags
Travel Accessories